Read more: http://www.benzinga.com/startups/11/07/1803923/the-fort-knox-of-pawn-shops#ixzz1TMprsubR
Three words: biometric fingerprint security. That's all you need to know.
Among the eBays (NASDAQ: EBAY) and Amazons (NASDAQ: AMZN [FREE Stock Trend Analysis]) of the world, consumers will find a wide variety of sites that allow them to buy items at a discount and/or sell them at a fair value. Some even provide individuals with the opportunity to make money by offering any number of services to those who are willing to pay.
Then there's Pawngo.com, a site that aims to stand out by giving consumers the chance to pawn – not sell – their items. How does pawning differ from selling? Pawngo explains:
"Let's start with what it doesn't mean. It is not selling something."
"A pawn loan allows you to borrow money today on your valuables without having to sell them."
"A pawn loan allows you to get your valuables back after you pay off your loan."
"A pawn loan will never hurt your credit and there is no lengthy application process to go through."
"We're taking a 3,000-year-old business and adding technology to it," said Todd Hills, co-founder, President and CEO of Pawngo. "[We're] creating a much different user experience when it comes to getting what is known as a traditional pawn loan. Obviously we are targeting a much different customer, too – we're targeting a customer that has typically had access to credit via credit cards, a line of credit, equity in a home, or overdraft protection. Options like that that just aren't available. We recognize that and that's the opportunity we're going after."
Loans are offered at a minimum of $250 and a maximum of $100,000. "It's a three-month loan, which is renewable for an additional three months, so long as they make their monthly fee," Hills said. Interest rates range from 3% to 6%.
Despite the maximum loan amount, you won't be able to pawn your Porsche 911 Carrera.
"We only take items that can be easily shipped overnight by FedEx (NYSE: FDX)," Hills explained. "So that would be a collection of jewelry, a collection of gold, a collection of watches. It would be a large collection of those types of assets."
Since launching in June, Hills said that Pawngo has seen an overwhelming response. "We launched with three sales people," he said. "Today we have 15 people in the customer service department to handle the calls."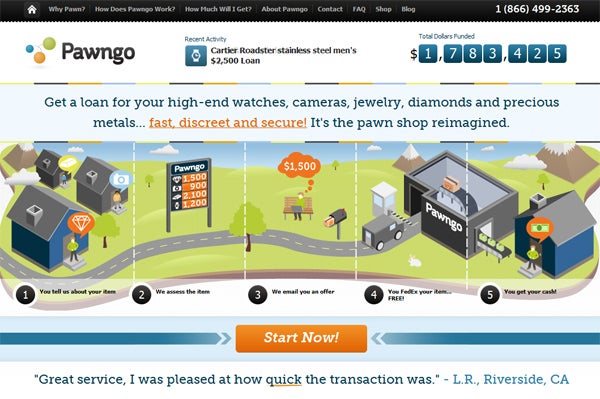 Parting is Such Sweet Sorrow…Without Guarantees
If the thought of pawning a precious item scares you, you're not alone. I personally can't stomach the thought of parting with my Nintendo DS, even on a temporary basis. (Is anyone surprised by this?)
Anticipating how consumers would feel, Pawngo has worked very hard to provide guarantees (Pawngo guarantees that its loan or buy offer will be better than "any other pawn shop, any other online marketplace and any online buyer of pre-owned merchandise") and something it refers to as "The Comfort Pledge" (no credit checks; no letters or phone calls if you don't pay back your loan; etc.).
What about the safety and security of the items you're pawning? Hills discusses this very issue in a video on the site's about page. "The evaluations lab is quite a creation," he said. "Security is definitely at the top of the list there – 24/7 video surveillance, biometric fingerprint to get into the lab itself. It's a bank vault, basically."
Breaking In
Hills got his start in the pawn business back in 1985. At that time, he was merely working for a pawn shop. But by 1990, he became the proud owner of his own pawn shop. Seven years later, he established Pawn One, built it into a small chain, and sold 15 locations to EZCorp (NASDAQ: EZPW). In 2009, Hills teamed up with Jim McHose to form Internet Pawn, which was later re-launched as Pawngo after receiving an investment from Lightbank.
"Lightbank actually reached out to us early January," Hills revealed. "They kind of had the same idea. They were getting ready to launch their model, and they decided that they didn't know anything about my industry, and I had already been out there testing the model for the last 14 or 18 months, so we thought it was a great relationship to combine Lightbank's strengths with our strengths and team up together."
To get started with Pawngo, users can visit the get a quote page to get a "smart quote." Alternatively, you can ship the item right now to receive an offer – and some cash – a little sooner. Thus far, Pawngo has loaned more than $1.7 million in the United States.
In the near future, Hills and McHose will launch the Pawngo Shop, an online retail outlet that allows you to buy items that others choose to sell.
"The pawn shop has got a new address," Hills concludes, "and that's W-W-W."